Boston Post Road Banners
In 2004, The Boston Post Road Committee and the OEDC staff chose to install 36 decorative light poles along the Boston Post Road to add some needed asthetic character. Banners were installed at each of the major intersections along the Boston Post Road.
On these poles, we have installed graphic banners with the names of area business sponsors. The cost to sponsor these banners is $600 per year, or $500 to renew your current banner design. The program is mutually beneficial, as the Town of Orange is able to display lively, creative designs, while business owners are able to showcase thier business name along the heavily traveled Boston Post Road at very affordable rate.
If you are interested in sponoring a banner of your own, please review the Banner Application. See below for some examples of our most recent banner designs.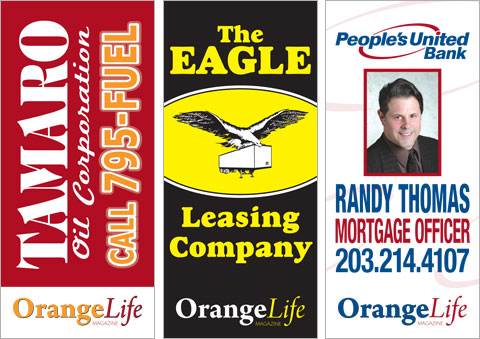 Contact us ASAP for best location - Act today!
Banners are renewed on an annual basis. If you wish to showcase your business name, service or product on one of our Boston Post Road Banners, we urge you to contact the OEDC office at (203) 891-1045.